Volunteering for Seniors
Monday November 19, 2018
Categories: General, Independent Living, Assisted Living, In The News
Fellowship Square Historic Mesa (a non-profit organization) has been blessed in our endeavor to maintain a balance of affordability and a high-quality lifestyle for our residents. One of the greatest ways in which we are blessed is by the efforts of volunteers-residents, their family members, and other individuals and organizations who generously give of their time and talents to our continuing care community in Mesa.
Volunteers in our community do a multitude of things for our senior living residents. Below is a list of some of the activities people volunteer for:


- Call Bingo
- Coordinate group games
- Give campus transportation assistance/golf cart rides
- Participate in choir performances
- Clerical assistance and putting together packets
- Help with blood pressure and flu shot events
- Serving on food committees
- Working as marketing ambassadors
- Newsletter editing
- Welcoming new residents
- Working in our country store
- Dog walking
- Library organization
- Reading to those who are vision impaired
- Leading water aerobics groups
- Making teddy bears for children in crisis
- And much more
Recently, 85 volunteers (student athletes & coaches) from Benedictine University of Mesa visited our community and cheerfully painted stairwells and swimming pool fences, cleaned and reorganized our libraries, painted light poles and railings, and added 38 door pulls to assisted living doors. Athletics Director Steve Schafer said, "Our student athletes really had a great experience and one that was very impactful for them personally and spiritually." Our residents were delighted with the fresh paint and loved the fact that the students cared enough to bless them with their volunteer time. Their work saved our community thousands of dollars in labor and this act of volunteering helps us keep our rates as low as possible and remain an affordable senior living community for Valley seniors with limited incomes.
Resident Edna Mae Troupa (pictured with student athletes from Benedictine University) has been a volunteer in our community for several years, welcoming new residents and helping them become familiar with our community. Edna Mae says "I feel great about volunteering and want to continue. It's a great way to meet new people."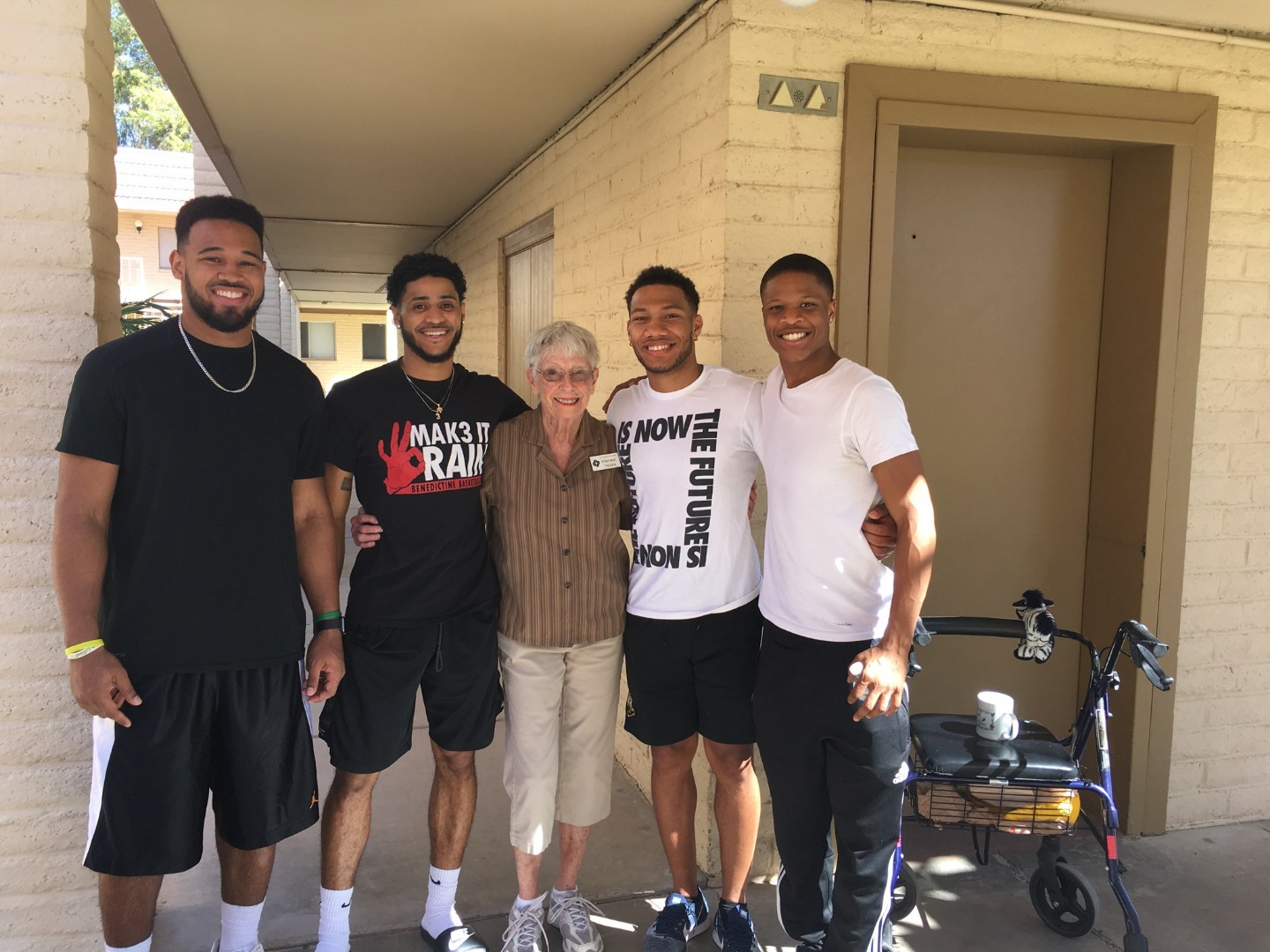 We find that many of our senior living residents are happy when they volunteer. They tell us that when they take advantage of the many opportunities Fellowship Square Historic Mesa has to volunteer, their lives feel fuller. Volunteering helps seniors feel more engaged and filled with purpose, and they make many friends who enrich their lives. This helps residents be inspired to stay involved and active, both physically and mentally. Studies have shown that volunteering has multiple benefits. Below are some articles about the positive effects of volunteering that we encourage you to read and hopefully they'll motivate you to donate some time and volunteer.
- Can Volunteering Fight Dementia? 
- Planning to Live to 100? Volunteer! 
- Senior Volunteers Reap Health Benefits
- Guide for Volunteering with Seniors 
What is required to be a volunteer? A simple application, a TB test if over the age of 18 and to keep a time sheet. If you're not a resident of Fellowship Square Historic Mesa, we do require reference and background checks. Please contact our Life Enrichment Director, Trisha Dreher, for more information or if you have questions, by calling her at 480-290-7014. Visit our location for a tour of our continuing care community to learn more about the active lives our residents live.