A day in the life...Fellowship Square Resident, Wanda
Monday May 14, 2018
Categories: General, Independent Living
Wanda C. has been a resident of Fellowship Square Phoenix for two years and counting. And while she notes that there is nothing that she doesn't like about living at Fellowship Square, she names the nice and happy staff members as her favorite part of the community.
Wanda, now 88 years young, grew up in Texas, but her life took to the skies when she joined the military. Wanda learned to fly a T-34 plane for the United States Air Force at Kirkland Air Force Base in Albuquerque, New Mexico. She served as a USMC Captain in Korea from 1951 to 1954. Post-military, she and her husband of 60 years, Charles, who served as an artillery officer in the United States Army for 23 years before retiring as a Lieutenant Colonel, continued to enjoy life from a bird's eye view – flying personal aircraft including Cesnas and Pipers.
"I just loved flying," Wanda says, adding, "Being up in the air is just so different." Wanda also enjoyed trying her hand at flying a sailplane, a motor-less aircraft that offered "complete silence" as she observed the world from above.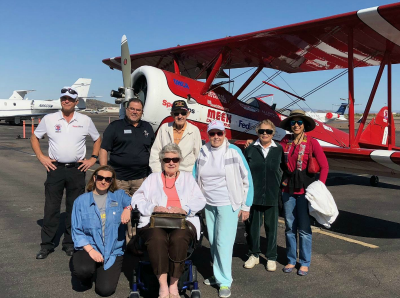 Wanda (seated, center) with fellow Veterans from
Fellowship Square Phoenix - ready to take flight!
Recently, Wanda participated in the Ageless Aviation Dreams Program, a non-profit organization that is dedicated to honoring seniors and United States military veterans, though she admits that she wasn't sure she'd be able to board a plane again. "I really intended to just go and watch," she says. But when the pilots assured her they would help her board, she grabbed her chance to take to the skies once more. The organization's mission is "give back to those who have given," giving seniors and veterans the opportunity to ride in a Boeing Stearman biplane, the same aircraft which was used to train many military aviators in the 1940s.
While Wanda enjoys more "grounded" activities these days such as exercise classes at Fellowship Square, her dedication of service to others still remains. "A big part of my days are spent sewing," she says. That's because Wanda participates in a volunteer group that sews handmade teddy bears for the children's wards of four local hospitals.