Moving into Senior Living During COVID
Tuesday December 01, 2020
Categories: Independent Living
---
While speaking with a colleague last week, she mentioned to me that a friend of hers is looking for independent living for her grandmother, but she and her grandmother are both nervous about her moving into a retirement community during the COVID pandemic.
Over the past few months, many prospective residents and their families have asked us this very question, "is it safe to move into a senior living community right now?" And in addition to safety, families are worried about whether they will be able to visit their loved ones in independent living. And certainly, these are valid concerns.
In light of this, we decided to take a video of one of our team members checking in for the day, as soon as she arrives on campus, before clocking into work. We wanted to give viewers a glimpse of some of the safety precautions we have in place.
Our top priority is, and always has been, keeping our retirement community healthy and safe.
Safety protocols in Senior Living

Doug Dreyer, Director of Operations for the Christian Care/Fellowship Square Phoenix campus, originally installed this technology while at our sister campus in Historic Mesa. When he transferred to Phoenix in October, he installed the kiosks almost immediately. "Our check-in process is now streamlined with a touchless, non-invasive wall mount thermometer and an electronic self-check in form, which means our visitors no longer need to fill out lengthy paper forms when visiting their loved ones."
Each kiosk is monitored by staff or volunteers, to help answer any questions and to ensure everyone completes the screening process before proceeding further.
One of the most important benefits of using the kiosks is an increased efficiency in contact tracing. Kristie Larsen, Executive Director says, "By utilizing this low-cost technology, we can maintain our contact tracing and access the information more efficiently if one of our residents or a staff member tests positive for COVID-19. This helps keep everyone safe and healthy."
Cycle Cleaning
Physically distanced, together
The benefits of living in a retirement community have been amplified during the pandemic. When Arizona shut down and quarantine was mandated by local government, many seniors found themselves more isolated than ever.
However, rather than being isolated in a single-family home, our residents were receiving daily meal deliveries from the waitstaff they have grown to know and love. The Activities department found new ways to keep residents socially engaged even though we couldn't gather in person.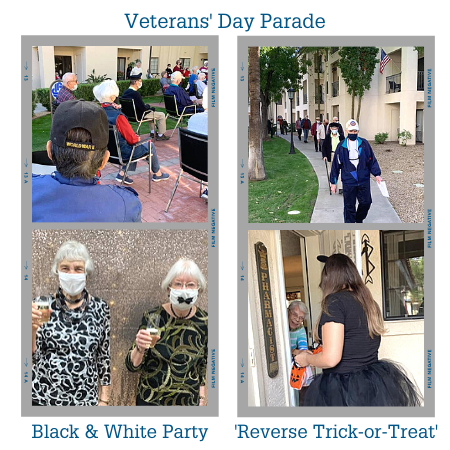 If a resident needed repairs in their apartment, they could put in a work order as usual, knowing that the tech visiting their home had been carefully screened and was following strict infection control procedures. For residents and staff alike, Fellowship Square/Christian Care became our own safety bubble, an insulated and supportive community.
Together, we felt safer here than anywhere else.
Return Stronger
On April 29th, Arizona Governor Doug Ducey issued an Executive Order titled 'Return Stronger', which allowed businesses to resume operations in a limited capacity. Additional businesses were permitted to open over the following few weeks. While we were all very excited, out an abundance of caution, we followed suit in a decidedly slower pace. Each phase of our reopening was carefully planned to make sure we were taking every possible precaution to prevent the spread of COVID-19 to our senior living community.

During the shutdown, visits in Independent Living were restricted to those of absolute essential need, medical necessity or emergencies. On May 8th, residents were able to welcome visitors again, as long as visitors followed all safety protocols set in place. Over the next few months, community spaces and amenities began open up as well. Finally, on September 23rd, we opened our dining room at 50% capacity.
Watching the Food Service and Dining team prepare the dining room for reopening was like watching kids decorate for Christmas – they were absolutely overjoyed. We all were!
We continue to remain committed to helping prevent the spread of COVID-19 within our retirement community. We encourage people not to wait until COVID is over before making a move into senior living. No one is certain how long this will last, it could be months, or it could be years. 
In the meantime, at Fellowship Square Phoenix, friends and neighbors are able to enjoy meals together again. While the main dining room isn't open to guests quite yet, friends and families are able to reserve the private dining room so they can share meals and still maintain 6 feet of physical distance. And for residents who aren't quite ready to eat outside their apartment, we are still delivering meals in person. The Activities department is going strong, hosting events at regular intervals so group sizes can remain small while still giving everyone an opportunity to attend. If you haven't already, be sure to check out our Facebook page, @fssphoenix
If you are on the fence about whether this is the right time for you or a loved one to make the move – consider all that you are missing. As the American actress Shirley MacLaine once stated, "Fear makes strangers of people who would be friends."
Don't be a stranger, we are always ready to welcome new friends.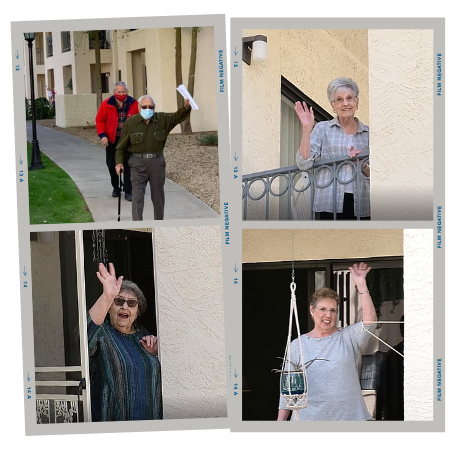 ---
At Fellowship Square Phoenix, we are giving safely distanced tours of independent living. Tours are limited to a maximum of 2 guests at a time, and we encourage people to schedule theirs in advance. Additionally, we continue to offer virtual tours, both live and 'on-demand'. 
For more information, or to schedule your safely distanced tour, give us a call at 602-833-4330 or send us an email at Phoenix@FellowshipSquareSeniorLiving.org