We serve the 1%
Wednesday June 03, 2020
Categories: General, Independent Living, Assisted Living, In The News
---
We wear masks…
This was not a typical picture day. Even though we all work together on the same campus, this was the first time we were together in one place in over two months. Thanks to COVID-19, our senior living community has been locked-down since March 11, 2020. When we made the decision to lock-down, there was no going back. We were moving forward with a vengeance to protect our residents. Lock-down meant there would be no movement throughout the different entities on campus. The Skilled Nursing Facility staff would be dedicated to that building. The Assisted Living staff would be locked-down in their respective buildings. Staff would not be permitted in any other area of our campus, except the area where they were assigned. This was the rule for every building, and for Administration. Incident Command was established and we were facing our first pandemic.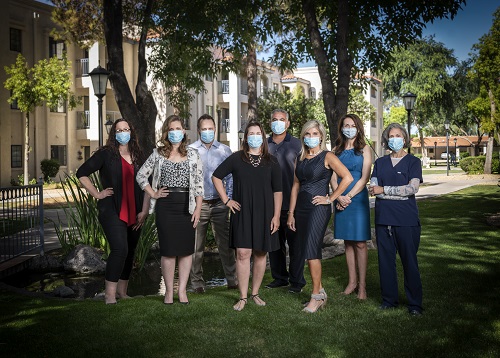 As the Executive Director, this was especially difficult for me. My strength is not sitting in an office all day. My strength is building relationships with my team, and with my residents. The lock-down has been devastating. It's taking it's toll on our families who cannot visit their loved ones. It's taxing on our residents, who despite all of our efforts, are lonely. We all know that Zoom is amazing, but it's no comparison to a warm, heart-felt hug, from the people you love most.
This day we came together, in masks, for a picture. It was emotional. I am so honored to serve with these leaders. The endless hours they have dedicated, their willingness to put themselves at risk every day, and their commitment to our residents and employees, is admirable. They do not want accolades, but they are true heroes.
The photographer asked us to take our masks off. What? We're not allowed to take our masks off. That was almost blasphemy. Doesn't he know that masks help prevent the spread of COVID-19? We have too much at risk. The photographer himself had a mask on. We don't let anyone on our campus without a mask. It didn't take much thought. As you can see, we did not take our masks off.
It's what we do now. We wear masks.
Everyone in this picture has committed their career to Senior Living and Long-Term Care. It is the purpose we are all called to. There is something in us, a passion, that dedicates us to the most vulnerable among us. We walk the walk and talk the talk. Those of you in Long-Term Care, know what I mean. We are all facing unprecedented times. No one has experienced a pandemic of this magnitude. We have had short-term lockdowns, flu outbreaks, power outages, ice storms, monsoons, you name it. But COVID-19 sets the standard for challenges.
This virus has affected more than 1.8 million Americans. This is less than 1% of the population. Of those affected, 106,202 have died. 1/3 of those deaths were Nursing Home residents or employees. That number may seem insignificant. Some people think masks are an inconvenience; they think they are being forced to conform. We call it risk mitigation. If I know that by wearing a mask I could prevent spreading a virus, that might be passed on to a frail senior, or a sick child… there is no consideration necessary. I am wearing the mask. Less than 1% of the population will continue to be affected. This population includes our people; our employees, our residents. 1% may seem insignificant, until that number affects you.
Philippians 2:3-7, tells us not to seek conflict or contention; not to act arrogantly. It tells us act with humility. It guides us to put others first; to consider their needs more significant than our personal preference.
We wear masks, not because they are comfortable, not because they are convenient, but because they protect other people from viral droplets that we may carry and spread. We wear masks because, we recognize it's in the best interest of others.
We choose to wear our masks,
because we choose to serve the 1%.