Jami's Book Club
Monday June 08, 2020
Categories: General, Independent Living
---
Immersing yourself in a great book can make your brain come alive. Science is now proving this to be true. When we read, we not only improve memory and empathy, but research shows that it makes us feel better and more positive too. Science has shown that reading has amazing health benefits, including helping with depression, cutting stress, and reducing the chances of developing memory impairments, later in life.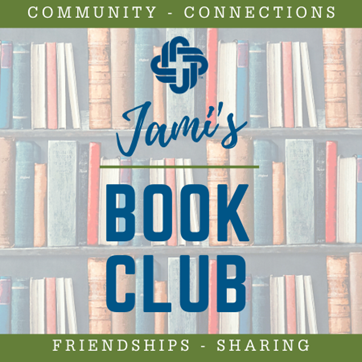 To help promote more reading, we are starting a Book Club, of sorts. Each month, Jami Gross, our Executive Director, will share a new book and a brief summary of the storyline.
We are hopeful that we can create a community of meaningful connections, fueled by our love of stories! If you enjoy the books, we encourage you to share them with your friends and neighbors.
You will find a shelf dedicated to these titles in the Fellowship Square Library. Multiple copies of the books will be available. We only ask that you return them, when you are finished so others may enjoy.
To get started, in addition to this month's book, Jami is stocking the library with five (5) additional titles. These are among Jami's favorite books that she has read over the past year. You will find brief summaries of these 5 books below.
Please feel free to share your thoughts or your favorite book here in the comments section, or with Jami at jami.gross@christiancare.org
We have created links to each of these titles, in case anyone would like to purchase a copy of the book for themselves.
Please note: we are providing these links simply for your convenience. We do not earn any commissions or compensation from book sales.
---
Book of the Month for June:
Where the Crawdad Sings, by Delia Owens. This book has a lot going on. It's a heartbreaking, coming- of- age story, a celebration of nature, and a surprising tale of possible murder. The story is set in the desolate marshlands of the North Carolina coast, and is told through the eyes of an abandoned child. Owens reminds us that we are forever shaped by the children we once were, and that we are all subject to the beautiful and violent secrets that nature keeps. I can't express how much I LOVED this book. It has to be one of my favorites.
---
Additional Book Summaries: 
Before We Were Yours, by Lisa Wingate
This book is based on a true story and an unthinkable chapter in our nation's history. This is a tale of Georgia Tann and her Tennessee Children's Home Society. The fact that this home could actually exist, unraveling the lives of countless children, will give you chills. Georgia Tann was known to steal children from the poor and sell them to the rich, under the disguise of orphanages and children's homes. This is a story of the Foss Children who lived a magical life aboard their family's Mississippi River shanty boat. They were stolen away and thrown into the Children's home. This story is set in Memphis, 1939. This story parallels and connects with the present- day Safford family in South Carolina. It is this connection that creates an engrossing tale about sibling love and the toll of secrets.
David and Goliath, by Malcolm Gladwell
The subtitle of this book summarizes it best: Underdogs, Misfits, and The Art of Battling Giants. Malcolm Gladwell is one of my favorite authors. David and Goliath, challenges how we think about obstacles and disadvantages, offering a new interpretation of what it means to be discriminated against, or suffer from a disability, or lose a parent, or attend a mediocre school, or experience any number of other apparent setbacks. As in his other books, Gladwell draws upon history, psychology, and powerful storytelling to reshape the way we think of the world around us. This is a truly intriguing and inspiring book.
This is one of The New York Times, TEN BEST BOOKS OF THE YEAR. Educated is a one-of-a-kind memoir, about Tara Westover's exceptional and unconventional upbringing. It is an amazing and inspiring story about how religion and family dynamics, shape and impact our minds and lives. Tara was 17 years old before she ever stepped foot in a classroom. She was born to survivalists in the mountains of Idaho and spent most her childhood preparing for the end of the world. Her mother was a midwife and healer, and her father owned a junkyard, where she worked in the summers. Throughout the book, we see Tara stride beyond her limitations of birth and environment, into a better life. This too, was one of my favorite books!
The Alice Network, by Kate Quinn
The Alice Network hinges on the unsung valor of the female spy network, in the Great War, that left a legacy of blood and betrayal. Two women, suffering the losses of two different wars must join forces. This book contains two storylines that race over continents and through decades to converge in one exciting and explosive ending! This book is funny and heartbreaking. It's an unforgettable tale of little-known wartime glory and sacrifice.
The Baker's Secret, by Stephen Kiernan
This is a story of tragedy, love, endurance, and redemption. This book, set in 1944, gives us the intimate view of a small French Village, forced to endure the humiliations of German occupation. The story centers on Emma, the young baker and consummate survivor whose boldness and ingenuity help her to keep her village alive, as they pray the Allies will make good on their promise of rescue. Emma is an unforgettable heroine who you will grow to love as the story unfolds.