Promotions Announced
Tuesday July 21, 2020
Categories: General, Independent Living, In The News
---
One of the (many) wonderful things about being part of the Christian Care/Fellowship Square team are the extensive opportunities for professional growth in senior living. Stories of employees starting out as a CNA or a Housekeeper and working their way up to managerial or director roles are not the exception at Christian Care. Instead, our history is full of inspiring stories of professional and personal growth.
Christian Care has always held a strong commitment to providing career advancement and professional development opportunities to our employees. Whether it is through continuing education, mentorship opportunities or attending our own Christian Care University, we embrace the opportunity to continually learn and grow.
Speaking of career advancement and growth, we have two new promotions and another transfer to announce. And in keeping with this theme, all three of these team members have their own story of career advancement within the Organization.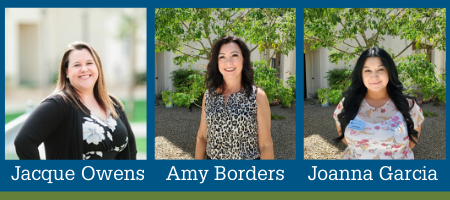 Jacque Owens, Director of Resident Services, will be heading to the Surprise campus on August 1st, to serve in the same capacity. Jacque's first period of employment with Christian Care began in 2003, at our Fellowship Square Phoenix campus. While there, she worked in Marketing and Human Resources. In 2005, she transferred to our Mesa campus, where she worked in Resident Services, until she left for college in 2008. Years later in 2014, Jacque returned to the Fellowship Square Phoenix campus where she started as the Security Manager. Shortly thereafter, she became the Resident Life Liaison and then in 2017, she was promoted to Director of Resident Services. Both residents and fellow staff alike will miss Jacque very much, and we know she will be very much appreciated on our Surprise campus as well!
Amy Borders, Director of Resident Services
Amy has created a fun and robust activity program. We credit her for our annual "Black Tie Event", which is a resident (and staff) favorite. Her dedication to the residents and their socialization throughout the COVID-19 pandemic has been recognized by many.
Joanna Garcia, Activities Director