Legacies, Transitions & Bright Futures
Thursday July 02, 2020
Categories: General, Independent Living, In The News
---
Sometimes, change can be scary and uncomfortable, and other times, it is bittersweet. At Christian Care, we are in a time of bittersweet transition as we have two retirements to celebrate, and two transfers to different campuses within the Christian Care family.
As I begin to write this, I realize it might be useful to have a Christian Care family tree in order to follow along. My apologies, as we do not have such a thing.
On July 10th, Kathy Loscheider will be retiring as Executive Director of Fellowship Square Surprise. Jami Gross, currently Executive Director of Fellowship Square Phoenix, will be transferring to Surprise to take Kathy's place.
On August 1st, Kristie Larsen, who is currently the Executive Director of Historic Mesa, will begin her new role as ED of the Phoenix campus – which is actually a homecoming of sorts! More on that later.
Kathy, Jami and Kristie will be communicating very closely with each other, all making sure that each campus has a smooth transition. While each one will be dearly missed on their current campuses, we are all excited to see what God has in store for them and in this next season for Christian Care.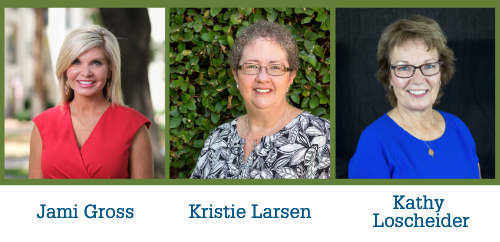 Also, on August 1st, after more than 30 years of service, John Norris will be retiring as Senior Vice President. His leadership style is that of a true Servant Leader, and one that will continue to leave an indelible mark on this organization for years to come. As his daughter, I could not be more proud of the legacy he has created for this organization.
As part of a strategic succession plan, Alan Hieb assumed the role of CEO in 2015. He too, has a strong commitment to Christian Care's Mission, Vision and Values. In September 2019, Christian Care celebrated its 40th Anniversary. At the celebration, Alan spoke to an audience of residents, employees and Board Members, "I am deeply grateful for your hard work, dedication, and commitment in providing peace, purpose, and care to those we serve. This milestone is an opportunity to look forward to where we are going. Our future is bright due to the strength of our faith, vibrant culture, and compassionate staff."
Branches of the Christian Care family tree
Fellowship Square Phoenix opened in 1989. At that time, it was the fourth building to open on the Phoenix campus. In 1990, John Norris became CEO of Christian Care Companies. Before assuming the role of CEO, he had served on the Board of Directors for a number of years.
When I turned 15, my first job was as a part-time receptionist at Fellowship Square Phoenix. While I loved what I was doing, I never thought that I would be returning more than 20 years later. And I certainly never thought Senior Living would become my career.
It was as a teenager that I met Kristie Larsen and Kathy Loscheider. Kathy began her career with Christian Care in 1986, as the Receptionist in Christian Care Health Center. Over the years, she has held various roles within the organization including Director of Business Services and Director of Subsidized Housing. After a brief hiatus, Kathy returned to Christian Care as the Administrator of the Health Center and then assumed the role of Executive Director of the Phoenix campus.
Kristie began her career with Christian Care in 1987. She too, has served in various capacities during her career with Christian Care, including Chief Human Resource Officer and Nursing Home Administrator.
While their roles and responsibilities have changed over the years, what has remained the same for both is their heart for God and their heart for our residents. (Side note: they both have the best laughs. Seriously, you don't even need to know why they are laughing, you will start laughing too. It's contagious!)
Fast forward to February 2013. My education and career had led me away from Christian Care. But in 2013, I returned home, when I joined the team as Director of Marketing. By that time, Kathy had become the Executive Director of the Phoenix campus, and Kristie was the Executive Director of our Historic Mesa campus. So much had changed, the organization had grown from one campus in Phoenix to five across the state of Arizona. Yet, the feeling of Christian Care, that certain something you can't put your finger on, hadn't changed one bit.
In 2017, as we prepared for the opening of our newest campus – Fellowship Square Surprise, it was announced that Kathy would be transitioning to that campus to serve as Executive Director.
In October 2017, Jami Gross stepped into the role of Executive Director for the Phoenix campus. While she had many years of experience in senior living, Arizona was new to her. As she says, "When I moved to Arizona, it was a risk. I had no friends, no lifelines, no connections. Yet, I felt God was leading me here. Our Phoenix Campus is such a special and unique place. The first time, I stepped on this property, I felt at home."
And so today, July 2nd, 2020, we are stepping forward into this time of transition together. Together, as a team who is united in our commitment to providing the highest quality of senior housing and services to our residents. A team who is also equally dedicated to Christian Care's Mission, Vision & Values.
I don't know about you, but I'm pretty excited to see what God has in store for us.